Comfort and availability
We have the widest branch network of any bank, which means your banker is always nearby. You can also manage your account from anywhere in the world through our online banking service.
All transactions at no extra charge

You pay no account maintenance fee. Incoming and outgoing payments are also free of charge. You also pay no fee for withdrawals from our more than 1700 ATMs, the greatest number operated by any bank in the Czech Republic.
Tip: Plus account will allow you to keep track of your expenses, make the most out of the money you have and may even allow you to add to your savings.
How much does Plus account cost and what do you get
The more you use Plus account, the less you pay
  
Bonus for using your account


You deposit at least CZK 7 000 into your account each month and make at least one payment with your card.
Fee with both bonuses:
CZK 0
Fee with one bonus:
CZK 50
Fee with no bonuses:
CZK 100
Regular appointments with your banker
By telephone

Leave your contact details and we'll call you
as soon as possible.

At a branch

Search for Česká spořitelna branch in your area.


Access your account from anywhere in the world, 24/7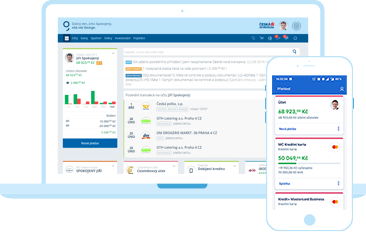 George gives you 24/7
access to your account
George online and mobile banking will make your life easier. Make payments, check the balance of your account and change the limit on your card quickly and easily.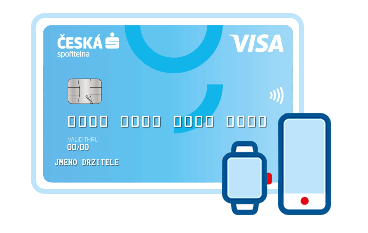 Tip: You can use the cashback service in designated shops to withdraw up to CZK 3 000 from your account.
Payment card

to the Plus account
You will automatically receive a debit payment card.
If you want, you can have another one for free. Choose their color combination yourself.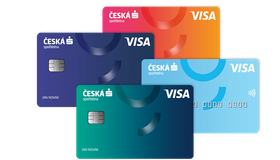 Tip: Do you want a maximally flexible card for payments at merchants and on the Internet? Set up a free George Virtual Card directly at George Banking. With this account, you can have as many as you want.
You may also be interested in
If you don't have an account, we can't provide complete advisory. Only by seeing your transactions can we sort them, and you don't have to do any home accounting.

Transferring your account to us is easy and you don't have to deal with any red tape: we'll do everything for you.

Visit one of our branches. You don't need to inform your bank that you are closing your account: we will make all the arrangements on your behalf.

We will fill in the Payment Account Change Request together.

We will get in touch with your bank and arrange all the necessary changes. We will transfer your standing orders, direct debit authorisations and SIPO (direct debit of multiple payments).

Inform any parties you need to that your account has changed.
The process takes 13 business days to complete.

When opening an account at a branch, all you need to have with you is a piece of valid identification, such as your personal ID card. If you open your account online, you will need two pieces of valid identification and an account.

Yes, electronic statements are free of charge.

You will receive the loyalty bonus if you:

use one of our following products: a supplementary annuity scheme, supplementary retirement savings or FLEXI life insurance;

make regular investments and timely loan, car, mortgage, building savings or credit card repayments;

use the Money on Click service; or

have a Maxi or Classic business account